Viola Elizabeth Sherman Trumble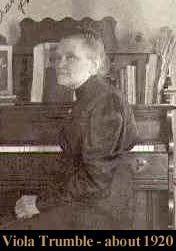 Viola Elizabeth Sherman was born in Prince George, Pr. George Co. Virginia, December 29th, 1861, too near Christmas to ever get any birthday presents or have much of a celebration on her birthday anniversary. She was the fourth child of Charles Jiles Sherman and his wife Mercey Maria Conley-Sherman. Her birth place was the plantation owned and operated by George Dan'ls,-that's the way they said it, Dan'ls,- where her father worked as overseer of the negro slaves, called a slave-driver in the language of the time and place. There she spent her early childhood, the first four years of her life. Playing with the negro children she learned their ways and language, and the southern drawl learned then stayed by her unto her later years.
In 1865 the danger of civil war between the slave holding states and the non-slavery states was too close for comfort, and the Sherman's literally fled back to New York state, their former home.
In New York her father worked as a stone mason, and died of Mason's consumption when Viola was ten years old. She remembered him as a kind father. She and her sister older were frequently called early in the morning to get breakfast so that mother Mercey could rest longer in bed. He was several years older than his wife and took much of the burden of managing the family household.
Mother Mercey was however plenty busy. She did all the sewing for the family. She first made the cloth of flax or wool or cotton then cut her own patterns and made the entire wardrobe for the family. Viola learned to sew as she helped with these chores. She was a grown girl before she had a "boughten dress" as the ready-made dresses sold at the stores were called. Perhaps the family disliked the home spun, home-made garments, but they were well, and the carding, weaving and spinning learned then was proudly recalled in the latter years on the South Dakota Prairie. The sewing learned there was an invaluable asset all through her life.
After the death of Charles Jiles Sherman his wife had six young mouths to feed. So it was necessary for her to allow as many as were able to go out to work for board and what wages they could command. Viola worked several summers in the tanning factory and in the logging camps and lumber mills. Her wage besides board was $1 per week. She received little regular schooling. Sometimes was able to get as much as three months in a year if her employer was willing and helpful. As she grew older she worked as hired girl and made more headway, both educationally and financially. Her most loved employer was Mrs. Joe Ferris, who was always spoken of as a good friend.
When she was 22 she married a young man of the community whose 27 years of life had been a good deal like her own. They met at a harvesters dinner where Viola helped serve. Milo was so enamored by her beauty and grace that he almost forgot to eat, so that when she came by to refill the coffee cups his was still untouched. Realizing this as she started to pass him by he grabbed his cup and said "Wait A-Minute" and gulped the coffee so she had to fill his cup also. That incident brought him to her attention. She was slender, blue-eyed with brown hair, rosy cheeked and pugged nosed. He was dark, tall and handsome with shoulders slightly stooped because he had been doing a man's work every since he was twelve years old.
Their courtship was a proper and prudent affair. He called regularly every two weeks on Sunday, - tho at first he used the alternate Sunday to "Go see" Reta, another girl-friend, Reta soon found out about Viola and "gave him the mitten" in vigorous fashion. And whatever they talked about it wasn't money or marriage relationships, Viola said in later life that if she had known that he believed that the man of the family should keep and manage all the family money she would not have married him, for though he always gave the money she asked for if he had it, she always resented having to ask him for money.
On November 7th, 1883 Viola Elizabeth Sherman became Mrs. Milo E. Trumble at Chatham, Pennsylvania. The Rev. E.W. Miller was the marrying pastor and her younger sister, Eleanora and brother George were the signed witnesses. The bride wore a dark wine colored dress of boughten wool cloth of a wide herring-bone weave, - made up in the fashion the day by her own hand. The skirt was full, with at least 12 gores held out by several flounced petticoats. The fitted waist was held straight by stays around the belt line with a flaring peplum below. The "leg-'o mutton" sleeves gathered a couple yards of material into the armhole and the deep tight fitting cuff at the elbow. A velvet facing was buttoned down the front from throat to belt with at least two dozen small round gold buttons over which neatly hand made button holes looped. At the throat was a gold bar-pin. The dress served as the "best dress" for special occasions for many years. It was ultimately made over into "best dresses" for her daughters years later. The groom wore conventional black.
The young couple set-up housekeeping on a small farm which allowed room to keep a cow and some chickens. Milo continued work at the mill.
There was much talk of greater opportunities out west. Linus Willie, Milo's only brother had located out there and kept writing for them to "come to Dakota". And so they made plans. Their first baby was born in April 1885. So it was that in September of that year they sold the cow and chickens, packed everything else they could into two chests and "took the excursion" to Pierre, (Pee-air they called it). The baby, George Chauncey, was six months old on the train. And they had come to the end of the line. It can be truthfully said that they stayed because they did not have passage back whence they came.
Will met them at the station with a team and wagon and took them out to this home where they were welcomed by his wife Elizabeth and little son Edwin. They staid with Will and Elizabeth several months while the land was filed on near by and the sod house was being built and the trees were being hauled from the Missouri River 15 miles away and set out to make the ten acres of trees for the tree claim. Some of the more hardy of these boxelders still stand in 1950, but the sod house is gone, not even a picture of it remains, except in imagination.
Thus began a new education for Viola, a new life, - the strenuous, lonely, terrifying, good life of the pioneer woman of the plains. She learned to make good meals out of flour and salt pork, for vegetables were scarce after the garden stuff gave out. She kept house neatly in their little 10 by 12 sod shack. There was a wide board floor in the end where the bed set, the rest was dirt floor, dirt made smooth and crusty by damp'ning and sweeping. She learned to make baby clothes out of the flour sacks after she had washed and bleached them white. She bore another son in December 1887, a puny baby, never very well. She thought it was because she hadn't had meat to eat while she "was carrying him". This fear was only partly dispelled when years later the doctor put her daughter-in-law on a meatless diet during pregnancy for the good of both the mother and the baby. He was their first Dakota child.
That winter of 1887-88 was a humdinger. January 12, 1888 made history and a good argument against trying to settle the prairie plains, by lashing snow too fine to see through on waves of cold wind in a blizzard that if we take the word of the old timers who saw it was truly the "grand-daddy of them all". During that storm Milo kept a path to the hay-shed they called a barn by making the trips to the hay stack every 1/2 hour to fill the hay burner by which they kept the house warm. Who can say what those days were like to young parents with two small boys, when the nearest neighbor was a mile away over the snow or through the blizzard? They attended to the business at hand, what else could they do? And thus won out with the Dakota Prairie. Thus they built up home and family.
Six children were born, four boys and two girls. Violas babies were all born at home with the help of a "mid-wife" or a good neighbor woman. She never had much help in the house, money was scarce and hard to get, credit for the newcomers was nil, so the money went to pay for the necessary things out of doors and help with the farm and stock. One baby a boy came at seven months and died three days afterward, and her second son the first Dakota child of the family died after 27 years of illness and pain, in another winter of deep snow, 1915, the same time that "Fussie", the first Mrs. T.F. Riggs died of complications after an appendectomy. The other four grew up to do proper credit to parents and community. They didn't all go to college, but they got the best education the community afforded.
Viola would do anything to "keep the Sunday school going", even when there was no pastor at the church community of Okobojo, S.D. She was superintendent of the Sunday School and kept the Sunday School papers and Golden Text cards coming for all who would attend.
There were pie socials, and basket suppers at the hall to raise money for this and that, or even to pay the preacher. Always every Christmas there was a big tree at the hall at Okobojo and a program befitting the occasion. Aunt Belle Mateer, Mrs. Chas. "saw to it" that there were presents for the children. She was the organist for all occasions, many times playing for the Saturday night dance then after a quick trip home to get breakfast returned to the same organ in the same hall to play for Sunday School and Church. Okobojo grew to be the center of social activities as well as a convenient inland trade center through from it's early beginning as a stopping place in the early Ô80's to Ô90's. There were 3 stores, a printing office, a hotel, a slaughter house, a sorghum mill, a town hall and a school besides the residences of the families who ran the businesses. But by the turn of the century people began to move away and now in 1950 there is little left to prove that early activity.
About the time the boys were ready for school Viola and Milo moved into the house on the Okobojo creek, where he had filed on a homestead, built a house and dug a well, to be near the school. Here they spent the winters for several years, and here Viola staid with the girls and one of the boys to care for the stock near the well during the summers while Milo farmed and cut hay on the prairie, until 1907 when the artisian well was drilled on the tree claim place, and a house was provided so they could again live on the prairie place.
The monotony of the pioneer life was relieved on rare occasions by a visit to the neighbors', usually lasting overnight. Hardships were not forgotten but shared. One of the hardships that aggravated Viola was the ever present bed bugs, flies and mosquitoes, to say nothing of the rattlesnakes. Probably every child of that period has a seeming inborn caution about rattlesnakes, and while they were numerous they moved into the house only on rare occasions. But the bed bugs were ever present, and permeated the wood bedsteads of that time until there just wasn't any getting rid of them. Viola kept them down by putting carbolic acid into the cracks of the bedstead with a wing feather from a chicken as applicator. She sat up at night to catch them as they came out of the wall boards. The lumber was full of them, and they came in the mail. Every body had bedbugs, and flies. Covered dishes were used on the table to keep the food away from the flies. There were no screens at the windows and no DDT in those days. Yet with all these difficulties Viola was a marvelous housekeeper. Her washings hung in proper order on the line each washing whiter than the one before, because she used unbleached muslin for bedding and underclothes, and home-made lye soap. Her knowledge of sewing stood her in good stead those days. She made most of the clothes for the family from the bolts of goods she brought home from those perhaps yearly trips to Pierre when she had $25 to $50 with which to buy a years supply.
She was never very well, but she "kept going" as she used to say, and did accomplish a great deal of work in that puttering, particular way she did things. And if the first 50 years of her life were pretty hard to take it was partly made up to her by the comfort and dare I say happiness of the latter years, in town with a house that had everything she had ever wanted, and a church near by. Viola wasn't a happy seeming person. She often covered her joy by scowlding, just as she talked out her fears in nagging, - ever harping on the should-be-forgotten mistake. Thus she seemed to dilute her happiness a little and really did deflate the expected joy in others trying to do something particularly nice for her.
Death came after a short illness at her home in Pierre in December 1936, just before her 75 birthday. Her husband, a son and a daughter attended her at the time. After a funeral service at the Methodist church in Pierre she was taken to the Okobojo cemetery for burial, but was removed to the Riverside Cemetery after Milo died in June 1947 and was buried there.
They say that she died, but she didn't really. She lives on in her children and grand children, in the looks and ways that are the same as her looks and way. They seem to be just latter editions with revisions as necessary to bring them up to date. And if each of them does as much better for their children as she did for her family in giving her children a better chance than she had in her younger days, the super-race may not be as far off as some would have you think.